gINT Version V8i Ss2
The new gINT V8i Ss2 (Version 08.30.04.206) was released on 31 March 2014.
Video
Watch the following video on what's new in SS2:
New Features
General Enhancements
Bug Fixes.
Greater Stability.
Enhanced Documentation.
Much faster speed working with Enterprise Databases.
For full details see the Help file, Help > Contents, What is new in Version V8i (SELECTseries 2).
I-Model Export (custom properties)
New properties for the I-Model export command that displays data from user-specified fields for overall borehole data and data for each layer.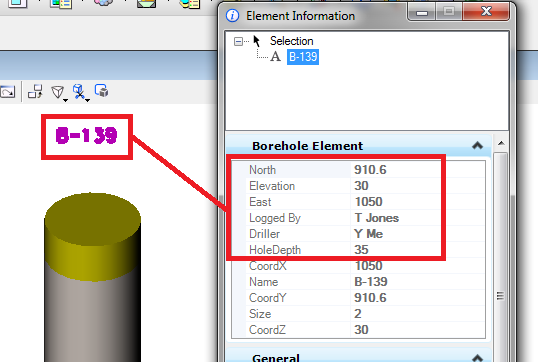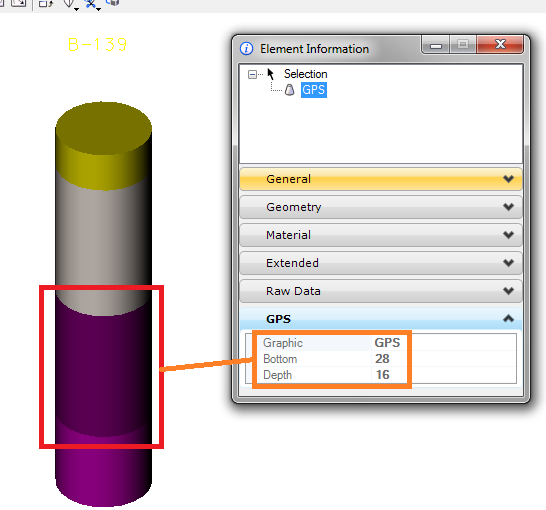 gINT ProjectWise Spatial
Automatically internally stamps borehole WGS84 coordinates (latitude and longitude) onto PDF exports of log reports. These native gINT fields and are shown and automatically calculated by gINT from North and East when the Coordinate Fields support is turned on.
Requires gINT Professional Plus licensing.
Surface to LandXML DTM
Capability of the Input | Surfaces application.
Allows export of the current surface (grid or TIN) to a LandXML digital terrain model file.
LandXML surfaces can be imported into many modeling products including Bentley Civil design programs.
gINT-PLAXIS
PLAXIS is a 3D finite element analysis program that is popular in the geotechnical field worldwide.
Can now export gINT data related to the layering geometry to create a PLAXIS subsurface model.
Silent Install
Used by system administrators to deliver gINT to multiple users via Group Policy or Microsoft SMS.
Export DGN with Raster Image Support
Export to DGN files now support raster images. That is bitmap symbol and in place bitmap symbol entities in reports and drawings are now properly transferred.
Repeating log pages horizontally & vertically
Supported in DGN, GDW, and DXF export.
Can limit the number of rows and therefore generate more than one sheet or unlimited number of rows for export to just one sheet.
If this option is selected, preview shows the exported view.
gINT Rules Procedure Before Required Fields Check
Allows executing code before gINT checks for data in required fields.
Useful when storing data in multiple units, e.g., Depth in Meters and Feet and procedure running before the required field check converting from one to another.
Display Axes for Length and Height in Fence Drapes
Draws a rectangle on the drawing area giving the horizontal extent of the drape alignment and the vertical extent of the top and bottom of all boreholes in the project.
Do not maintain aspect ratio
Allows setting of both height and width of raster images.
Applies to Bitmap Symbol and In Place Bitmap Symbol entities.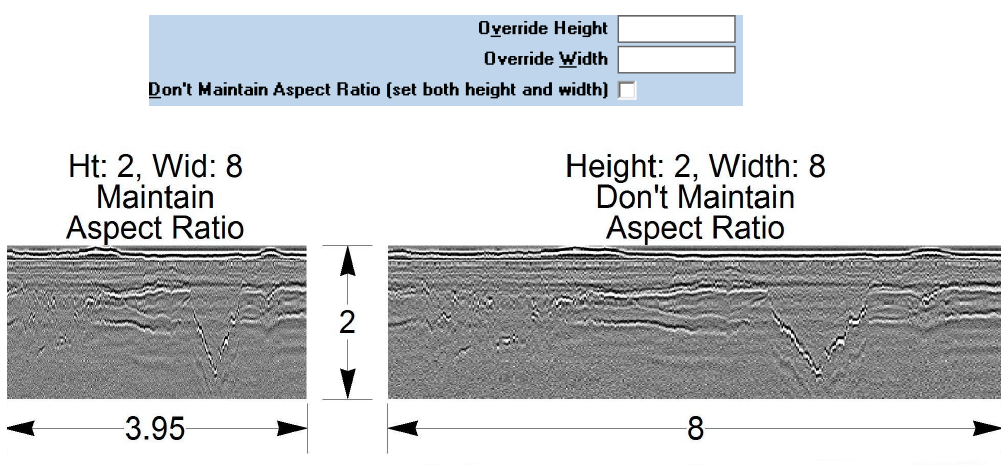 Grids and Ticks
Allows the superimposition of solid ticks over grid lines on reports that have grids: Fences, Graphs, Histograms, and Site Maps.
Only useful when the grid lines are not solid.

New Script Operations
Script Log File Operation - At the end of a script a script log is shown. Using this new operation, the log can be suppressed and the log sent to any file name and folder.
Copy File Script Operation - Allows copying from one file name/folder to another file name/folder.
Raster Image Import
In all gIDraw applications that support the Draw > Graphics > In Place Bitmap command, the command is replicated under the File > Import/Export menu.