Public gINT and Datgel Training Course Schedule
| | | |
| --- | --- | --- |
| Date | Location and Title | Course Information |
| 30 Oct to 3 Nov 2023 | gINT and Datgel Online Training course, APAC Time Zone | Information... |
Customised Training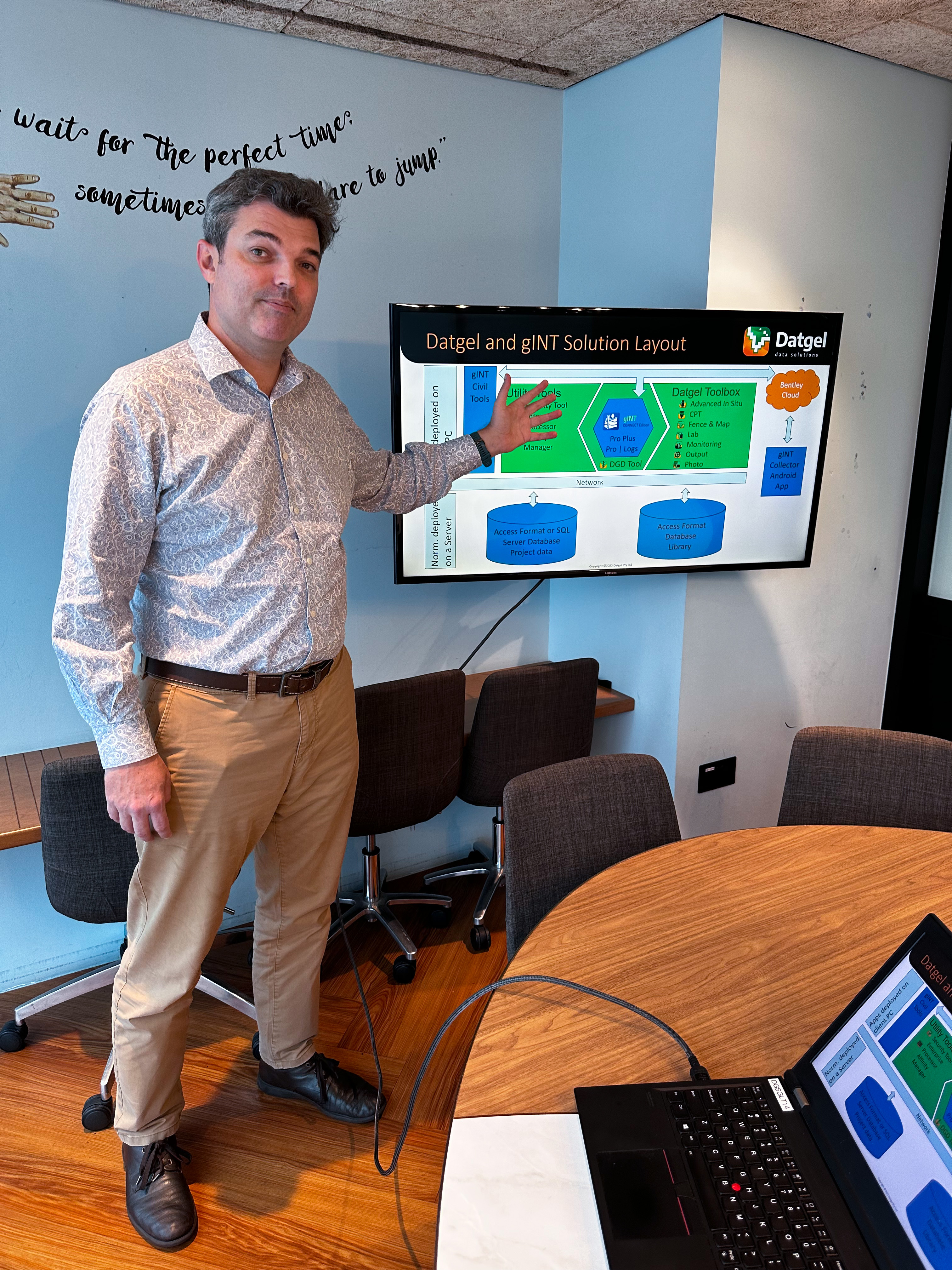 On-Line Training
On-line training courses are designed to cover a specific topic and last around 2 hours. We can customise the content to your individual needs and multiple participants from different offices in your organisation can take part.
On-Site Training
On-site training can be arranged at your office for one or multi day courses. We have developed 3 standard courses.
Using gINT and Datgel Software (2 days) - User level operations from starting a new project, data entry, data export/import, output, drawings, and gINT Civil Tools.  Conducted using gINT Pro/Pro Plus, DGD Tool Pro, Fence and Map Tool, CPT Tool and Output Tool.
Developing and Administering gINT (2 days) - Database design, report design, managing gINT within an organisation, Introduction to gINT Rules, SQL Server and gINT Pro Plus.
gINT Rules (1 to 2 days) - What can gINT Rules do, Sax Basic language, event procedures, forms and connecting VB.NET.
We have found that the courses are best run in a tutorial style with each participant having a PC or at most sharing with one other.
Course content can be customised to your needs such as using your existing gINT templates, and picking and choosing topics of interest.
Please contact us for a quotation and to discuss availability.
Past courses
Date
Location
25-29 July 2022
gINT and Datgel Online Training course, APAC Time Zone

26-30 July 2021

gINT and Datgel Online Training Course APAC Time Zone

23-27 November 2020

gINT

 and Datgel Training course, Online East Asia / ANZ Time Zone

9-11 December 2019

gINT

 and Datgel Training course, Online Europe Time Zone

25-29 November 2019
gINT and Datgel Training course, Online East Asia / ANZ Time Zone
12-15 August 2019 
gINT and Datgel Training course, Sydney, Australia
16-20 July 2018
gINT and Datgel Training course, Online East Asia / ANZ Time Zone
19-22 February 2018

gINT and Datgel Training course, Sydney

12-13 December 2016
Online - Two day (12 hour) Online Using gINT and Datgel Software Course Australasia/South-East Asia Timezone
14-15 December 2016
Online - Two day (12 hour) Online gINT Developer Course Australasia/South-East Asia Timezone
12-14 September 2016
Sydney - 3 day classroom Using gINT and Datgel Software, and gINT Developer Course
22-24 August 2016
Singapore - 3 day classroom Using gINT and Datgel Software, and gINT Developer Course
23-24 May 2016
Online - Two day (12 hour) Online Using gINT and Datgel Software Course Australasia/South-East Asia Timezone
25-26 May 2016
Online - Two day (12 hour) Online gINT Developer Course Australasia/South-East Asia Timezone
16-17 Dec 2015
Online - Two day (12 hour) Online Developer Course Australasia/South-East Asia Timezone
14-15 Dec 2015
Online - Two day (12 hour) Online User Course Australasia/South-East Asia Timezone
19-20 Oct 2015
Online - Two day (12 hour) - Using gINT and Datgel Software Course - Europe & Middle East Time Zone
24-25 Sep 2015
Online - Two day (12 hour) - Developing gINT Course - Australasia/South-East Asia Time Zone
22-23 Sep 2015
Online - Two day (12 hour) - Using gINT and Datgel Software Course - Australasia/South-East Asia Time Zone
15-17 Jun 2015
Bandung, Indonesia
7- 8 May 2015
Online - Two day (12 hour) - Developing gINT Course - Australasia/South-East Asia Timezone
5- 6 May 2015
Online - Two day (12 hour) - Using gINT and Datgel Software Course - Australasia/South-East Asia Timezone
25-27 Mar 2015
Sydney, Australia
16-17 Feb 2015
Online - Two day (12 hour) - Using gINT and Datgel Software Course - Australasia/South-East Asia Timezone