gINT Professional Plus
Manage and Report on High-Volume Data
gINT Professional Plus offers unlimited centralised data storage as well as multi-project reporting and extended querying power. gINT Professional Plus is designed for clients with high-volume geotechnical or geoenvironmental data, which can be effectively centralised with the superior capabilities of Microsoft SQL Server.
gINT Professional Plus uses SQL Server to provide virtually unlimited reporting capabilities and opens the door for a tremendous shift in the way companies manage their geotechnical and geoenvironmental data.
Unlimited centralised data storage.
Multi-project reporting querying power.
Multiple user editing.
Multiple Coordinate Systems.
Consistency in reporting.
Standardisation.
Improved data quality and optimisation.
Implement full backups (using SQL Server).
View changes in subsurface data in a given geographical area over time.
Share data with CAD, Desktop and Web GIS, Google Earth and more.
gINT Professional Plus will Enhance your Subsurface Data Management
Built on the open architecture of Microsoft SQL Server® and working with SQL Server 2005 and SQL Server 2008, gINT Professional Plus provides powerful upsizing technology, designed to completely, accurately and efficiently transfer gINT project data to SQL Server.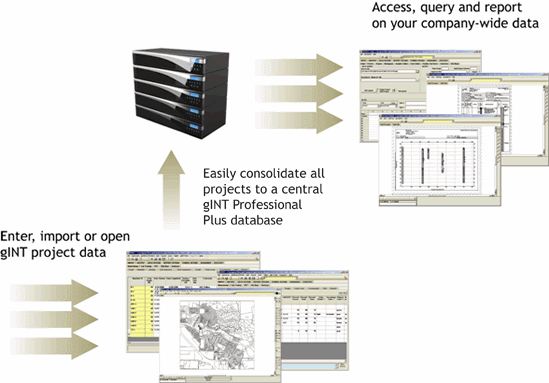 Consolidate Your Subsurface Data
With gINT Professional Plus you can consolidate all of your gINT projects into one central database. Having a single database dramatically improves querying and reporting capabilities and can help you avoid expensive redrilling.
Standardise Data Storage and Reporting
Create a consolidated set of consistent reports for all your company reporting needs, whether your data comes from external consultants or electronic data sources from field and lab testing equipment.
Share Data With Other Software
gINT works with a wide variety of industry standard applications and formats including CAD, GIS, Google Earth™ and more.
Multiple Coordinate Systems
Assign a coordinate system to each project and gINT will automatically calculate WGS84 latitude and longitude. This allows you to output fence and map reports from multiple projects with different coordinate systems.
Multiple User Data Entry
Multiple users may edit and use the database with no speed degradation in INPUT or OUTPUT, perfect for large time critical projects.
gINT Professional Plus and ArcGIS
Included in gINT Professional Plus is the ArcGIS extension, from within ArcInfo, AcrEditor or ArcView you can:
Display all borehole data
Create logs, fences, graphs, etc
Use simple SQL expressions to query gINT data