Client Name
Dredging International
Location:
Abu Dhabi, United Arab Emirates
Duration
2009 - Ongoing
Technology Employed
gINT Professional Version 8.2
Datgel Administrator Tools
Datgel CPT Tool 2
Datgel Fence and Map Tool 2
Datgel In Situ Tool
Datgel Lab Tool
Datgel Monitoring Tool
Datgel Output Tool 2
Datgel Processor Affinity Manager
Datgel Photo Tool 2
Datgel Secure Export Tool
Datgel Security Tool
Datgel Survey Tools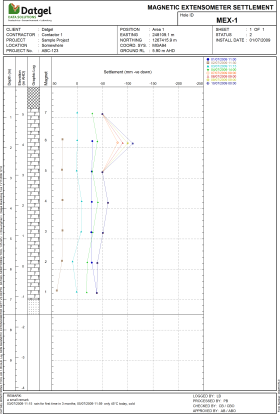 Example magnetic extensometer monitoring report 
Project Description
Ruwais Refinery Expansion project involves the reclamation of a 3 km x 3 km area, dredging of a shipping channel, associated quality control testing and settlement monitoring.
Datgel developed the construction phase Geotechnical Data Management System, including a calculations and reporting system for:
Materials lab - classification, compaction control, chemical and shear tests
In situ testing - CPTs, Boreholes, CBR, Density
Monitoring - Piezometer, Magnetic Extensometer, Rod Settlement Gauge
Phil Wade attended site to install and test the system, and train users.  User documentation was provided, and Datgel will support the system through the 2 year project.
For optimum performance and ease of maintenance the entire system is installed on a Terminal Server, and both contractor and client users access the system via TS. The Secure Export Tool automatically makes newly approved data available to the client each night.