Datgel Advanced In Situ Tool
Stores, calculates and reports Lugeon Water Test / Packer Test and Zone Load Test.
Webinar
Key Features
Use a database and validated calculations, rather than hundreds of spreadsheets.  Results will be in the same location as other field data, and can be immediately presented on logs.  
Shares a database structure with the DGD Tool, hence you can store data for Laboratory, Site Investigation, In Situ Testing and Instrumentation in one database.  It can be merged into any database structure.
Used with the DGD Tool you can import and export of AGS 3.1 and AGS 4 Format.
Calculation of results from raw readings.
Reports the test results individually according to the test method requirements.
Lugeon Water Test / Packer Test
Permeability test calculations according Houlsby 1976.
Field data by Fixed Time (option for 1 min and 5 min intervals) or Fixed Volume.
Calculation of Lugeon Unit and Hydraulic Conductivity.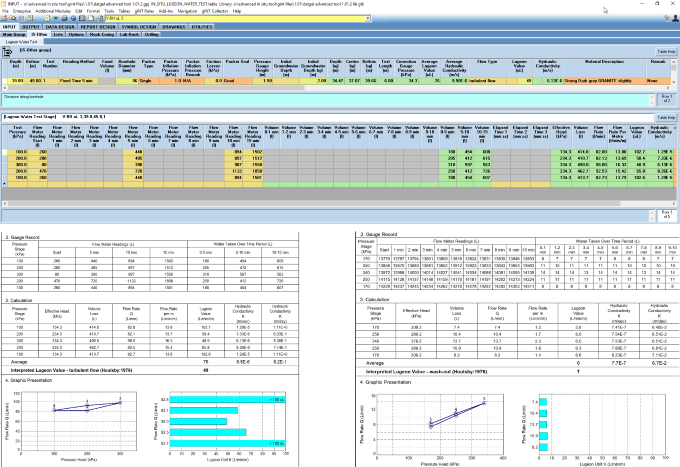 Example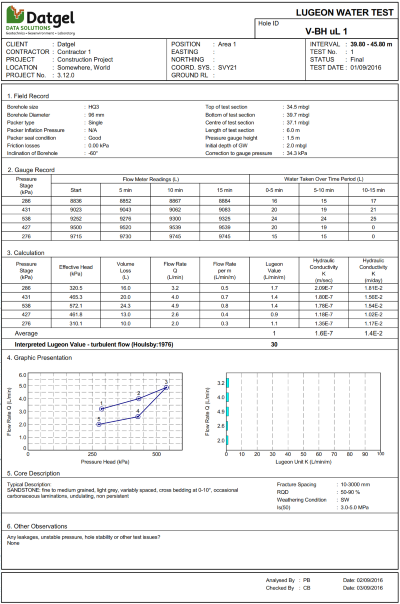 Example Lugeon Test
Zone Load Test
The Lab and In Situ Tool includes the calculations of the Zone Load Test described in the 
ICE Geotechnical Engineering Group Specification for Ground Treatment, 1987
.

Example Average Settlement and Load versus Time report