Report Design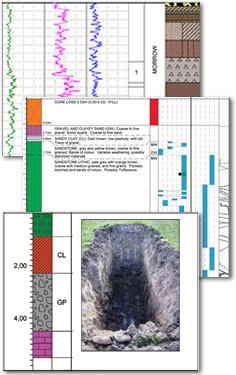 We can quickly create exactly the reports you need, including all types of borehole and well logs, cross- sections, lab reports and more.
We have considerable experience designing gINT databases and the full array of report types. You name it we've probably done it, be it lab sheets, summary tables, site maps, fence diagrams, contamination reports, logs for on and off shore, geophysics, mining, deep telescopic wells, shafts...
For examples of the range of possibilities, look at the standard reports that are included with gINT as well as the free reports they offer.
We can also help standardise your existing reports by:
Consolidating similar log reports into a single smart report that reformats itself based on the presence/absence of certain data (for example well information, water levels or environmental data).
Making your log forms easy to edit and maintain by consolidating common elements such as logos, company information, borders, etc. into "blocks." These blocks can then be easily reused on any number of different reports, making it easier to maintain consistency of common elements.
Using formulas in reports to perform automatic calculations for items such as refusal, exceedance, RQD%, SCR% and more, thus avoiding externally calculated fields in your database.
Contact us now to design a report for you
Database Design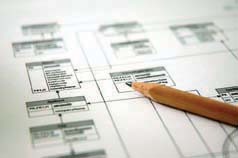 Database Design and Management
We can work with you create a database structure to accommodate all your users' needs. By implementing database field controls, lookup lists, required fields, default values, validation and more, we can help you capture and store accurate, useful data.
While understanding your reporting requirements is an important part of the database design process, we also examine how and why of your data management to ensure you are getting the most out of your data.
Contact us now to design a database for you
Component Descriptions
Datgel have developed Component Descriptions for Soil, Rock and Defects to AS, BSI and NZGS.